dNa-StereoEQ
The dNa-StereoEQ: Color your mix or sounds with this unique and easy-to-use analog style equaliser.
Highlights:

• Remote controllable with midi
• Stereo or MS processing
• Analog drive / Coloration
• Smart preset frequencies
• Type II: use less, get more.
• Intuitive in use
• 96kHz capable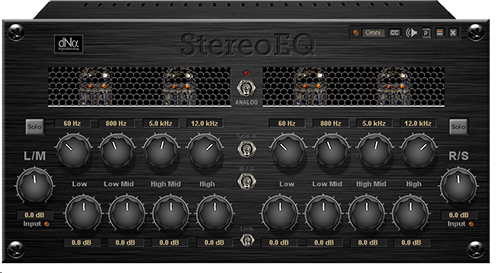 View Hires: Screen
Find out what other users think of these plugins @PlanetZ and ScopeRise
User's impressions:

"it is my weapon of choice now"
"I really like them...a real bargain IMHO"
"One of the best compressor and eq i have"


Features:
additional MS-technology: This equalizer can also work in M/S mode. That can almost work as a remixer!
Type II: Works more like gerzon-shelvelike equalizing. Use less, get more!
Analog Modus: This gives the signal analogue modeled distortion/coloration which can add excitement to any signal. You can also drive the circuits more with this feature enabled.
Presets: preselected frequencies.
clip-LED for overloads.
DynamicDSP: dynamic distribution of DSP power and functions which are not used are not loaded onto DSP's for highly efficient DSP usage.
Phase Alignment Technology; the processed and unprocessed signal stay in phase in other words the bypassed plugin has the same sample-accurate latency as non-bypassed.
Remote controllable through MIDI: Control the parameters for example with an external midi-controller.
Automation of parameters through MIDI: When you custom assign the device parameters to midi-CC signals(just right click on a parameter), the device sends out MIDI signals which you can "record" in you sequencer, thus you can automate the device.
Large GUI with "analogue-style" look and feel.
Saves in screensets
Compatible with Scope software 5x and 4x
Compatible with all Scope hardware, PCI cards and Xite
96kHz capable
Specifications/Parameters:

Gain/Level: -∞ to +12dB

Gain on all bands: -12 to +12dB
LF Freq: 30, 60, 90, 120, 175, 250 Hz
LMF Freq: 250, 500, 800, 1k, 1.6k, 2.2k Hz
HMF Freq: 1.5k, 2.2k, 3.6k, 5k, 7k, 10k Hz
HF Freq: 2.2k, 3.6k, 5k, 8k, 12k, 15k Hz

M/S: Switch to MS Mode; M on left, S on right
Type II: Enable gerzon-like filters, use less to get more.
Analog: Enable analogue modeling distortion and coloration
Solo: Solo out L / M and/or R / S

DSP-Usage:

The dNa-StereoEQ will use roughly between 470 ~ 960 DSP Cycles depending on settings on the old 60Mhz SHARC (older CW cards). (Max around 95% of one 60Mhz SHARC)

Version history/Change log:

-v1.0: Release, initial release didn't correctly work as insert, but this was fixed within hours.
-v1.1: Updated with soloing for both channels and added screenset-saving feature. Now part of the dNa Mastering Pack with the dNa-MasterCOMP and dNa-CompANY-XT.
-v1.2: -Added link function; -enhanced solo function; -added tooltips
-v1.21: Fixed minor link bug
-v1.5: Minor bugfix; added saving of assigned midiCC
-v1.55: Enhanced GUI
-v2.0: GUI-rework and added Midi CC manager, saves midi assignments with preset