dNa-ChannelRack
The dNa-ChannelRack gives you 6 newly developed "virtual eurorack" MONO channelstrip modules in one easy to use and configurable rack. Create strong and defined vocals, guitar or bass, drums etc by selecting the dNa high quality modules the analog hardware style.
As a bonus you will get an Ocean Swift Synthesis preset bank filled with wonderfull presets!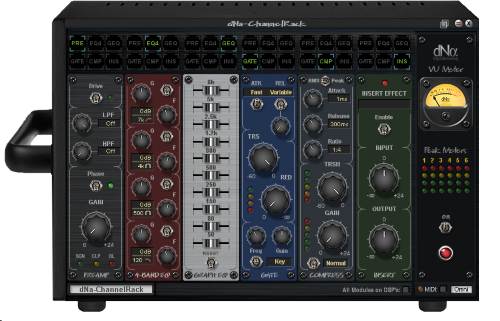 View Hires: Screen 1
Highlights(This is a MONO or 1 channel Unit):

• Preamp; Bring your source up to level and filter what is not needed and the possibility to drive your sound to give it some "OOHMPF"
• 4-Band EQ; Color your sound with this musical dNa style equaliser, the shelving EQ's are PASSIVE style!!! I just love what it does to the low end!
• 10-band Graphic EQ; Tweak your sound with this precise EQ
• Gate; Easy Gate with sidechain key function for cleaning your signal
• Compress; Compressor with the renowned dNa sound. Very musical and functional!
• Insert; load any mono effect of your choice into the chain

• By default highly optimized DSP usage; load what is used
• Remote controllable with midi
• Intuitive user interface
• 96kHz capable


Why to use?
Because your recordings deserve the best sound possible!
Not totally convinced of the qualities of this plugin; Try a demo!
I'm very grateful the guys from Ocean Swift Synthesis were willing in providing these wonderfull soundsamples, to demonstrate that the dNa-ChannelRack is a perfect companion, not only for live instruments, but also for their wonderfull synthesizers! Click on the Soundcloud logo below to listen to them.

Reviews:
Faxi Nadu, Ocean Swift Synthesis: Check out Faxi Nadu's video review here:

Fernando Abreu, Ocean Swift Synthesis:
"A highly versatile and configurable mono ChannelStrip. An all-in-one solution for EQ, Compression and Mixing. It has the same philosophy has the dNa-EffectRack; 6 channel modules that can be re-arranged and re-ordered on the fly. Its an entire mixing suite in one plugin.."

Also you can check PlanetZ and see what other users think of this plugin.
Features:
Easy to use: Select a channelmodule from above, and start tweaking
DynamicDSP: dynamic distribution of DSP power and functions which are not used are not loaded onto DSP's for highly efficient DSP usage.
Remote controllable through MIDI: Control the parameters for example with an external midi-controller.
Automation of parameters through MIDI: When you custom assign the device parameters to midi-CC signals(just right click on a parameter), the device sends out MIDI signals which you can "record" in you sequencer, thus you can automate the device.
Saves in screensets
Compatible with Scope software 5x and 4x
Compatible with all Scope hardware, PCI cards and Xite
96kHz capable
Specifications/Parameters:

For parameters description, see the manual. Downloadable at bottom of this page.



DSP-Usage:

The dNa-ChannelRack will use roughly between 127 ~ 1500 DSP cycles depending on settings, based on the old 66Mhz SHARC (older CW cards). (Min around 12% of one SHARC max just over one 66Mhz SHARC(@48khz))

Version history/Change log:

-v1.0: Release
-v2.0; Added dNa's Analog feature; seperate presetfile possibilities for modules; General enhancements (see changelog)


Manual:

-Manual for the dNa-EffectRack v1.0 >DOWNLOAD<