dNa-MidiTOOLS
The dNa-MidiTOOLS is a handy set of tool to simplify and organise parameters you want into a simple but effective remote-device. It consists of switches, rotary controllers and faders.
Highlights:

10 Midi switches
10 midi rotary controllers
20 midi assignable faders
Custom naming the controls
96kHz capable, for Scope 4.x and 5.x
BEST OF ALL: FREE!!!!!!!!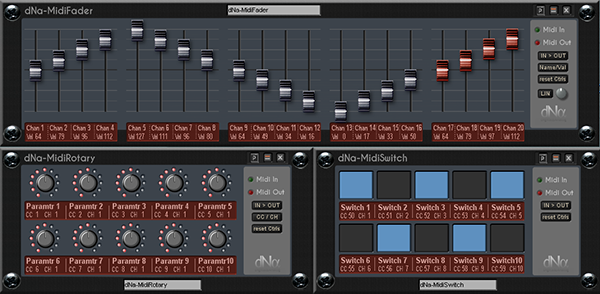 View Hires: Screen 1
Click here to shop dNa @ soniccore
Why to use?
With the vast collection of plugins for scope sometimes it would be handy to have a remote to bring only the parameters together that matter...this is the dNa solution....a nice freebee gift to the community.
Specifications/Features:

Easy to use
Displays midivalues

Switchable Midi Thru(not standard!) or Add the scope assigned controllers to the midi out.

Name the device for even better overview
Very light on DSP

Saves in screensets
Compatible with Scope software 4.x and 5x
Compatible with all Scope hardware, PCI cards and Xite
96kHz capable

DSP-Usage:

The dNa-MidiF uses roughly 14% of 1 older 60mHz SHARC, dNa-MidiR and dNa-MidiS around 8%. This is ALL only for the midifunctions...no overhead stuff...as efficient as it gets.

Version history/Change log:

-v1.0: Release
-v1.01: Gui correction in MidiR R2
-v1.2: GUI-rework, small optimizations